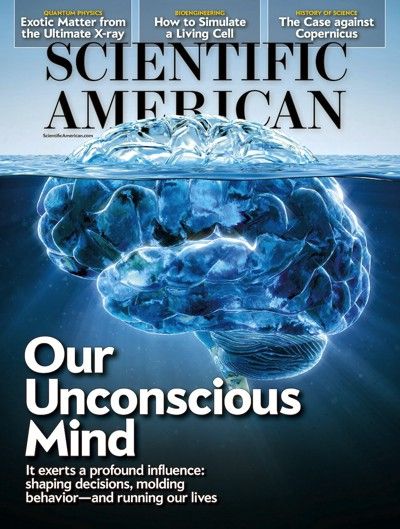 Over Scientific American
Scientific American is één van de bekendste bladen op wetenschappelijk gebied. SA houd je op de hoogte van alles wat de wetenschap kan bieden, vandaag en in de toekomst. Het belicht de essentiële rol van wetenschappelijke ontdekkingen op het gebied van geneeskunde, energie, technologie, milieu en economie. Ben jij geïnteresseerd in wetenschap? Dan is Scientific American onmisbaar! Wil jij alles weten over het laatste nieuws in de wetenschap? Word abonnee van Scientific American!
Klantenservice Scientific American
Voor vragen en opmerkingen over lopende abonnementen kun je het best direct contact opnemen met de uitgever van Scientific American. Dit betreft bijvoorbeeld het stopzetten of opzeggen van een abonnement, betalingen (cq. incasso's) en het doorgeven van verhuizingen en bezorgklachten.
De contactgegevens voor Scientific American:
Global Magazines
0317-712062
Mocht jouw vraag of opmerking een bestelling via Abonnement.nl betreffen, aarzel dan niet om contact met ons op te nemen.
Scientific American offers the latest news and features on science issues. Bekijk hieronder de actuele aanbiedingen. En kies jouw Scientific American abonnement.
Scientific American cadeauabonnementen
Cadeauabonnementen stoppen altijd automatisch.
Dus geef nu een abonnement op Scientific American cadeau. Voor een verjaardag of een andere feestelijke gelegenheid. Of zomaar, omdat iemand het verdient of goed kan gebruiken.
---
Laatste reviews
Goed blad om bij te blijven
Geeft op een goed begrijpbare manier een overzicht over wat er speelt in de verschillende research gebieden. Het grote nadeel van het blad is een hele duidelijke focus op de USA en wat daar speelt.
Sterke punten
Informatief
Diepgaand
Afwisselend
Very interesting magazine to stay informed about the newest discoveries in science and environmental problems.
Voordeel: interessante onderwerpen met vaak duidelijke illustraties. pro's: a lot of interesting topics with clear illustrations. Nadeel: er zit erg veel reclame in Con's: too much advertisement. Do you like science, energy, space or nanotechnology, then maybe you are interested