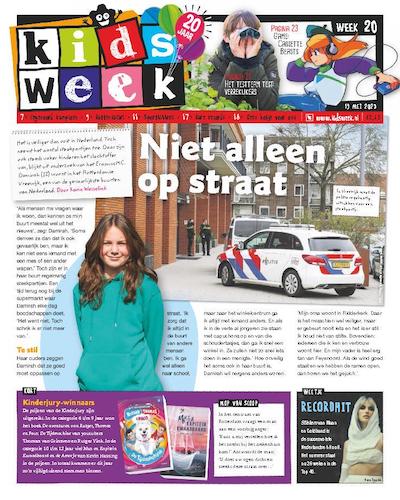 Kidsweek brengt het nieuws voor kinderen. Bekijk hieronder de actuele aanbiedingen. En kies jouw Kidsweek abonnement.
---
6 weken (6 nrs.)
superactie
Stopt automatisch
---
---
3 maanden (13 nrs.)
Stopt automatisch
---
---
6 maanden (26 nrs.)
Stopt automatisch
---
---
1 jaar (52 nrs.)
Stopt automatisch
---
Kidsweek cadeauabonnementen
Cadeauabonnementen stoppen altijd automatisch.
Dus geef nu een abonnement op Kidsweek cadeau. Voor een verjaardag of een andere feestelijke gelegenheid. Of zomaar, omdat iemand het verdient of goed kan gebruiken.
---
6 weken (6 nrs.)
superactie
---
---
---
---
De kindvriendelijke manier van Nieuws presenteren
aangevraagd omdat de krant mij leuk om te lezen leek voor mijn dochter, heel gevarieerd. En omdat ze een abonnement op een tijdschrift/krant mocht kiezen. Wij vonden het wel erg jammer dat de hele kerstvakantie geen krant werd uitgegeven.
Erg leerzaam. En het was allemaal perfect geregeld.
Dit stond op het verlanglijstje van mijn neefje.
Kidsweek is leerzaam, sluit aan bij het onderwijs in de klas en bij het Jeugdjournaal.
Petra koenders
01-07-2013
Leuk en leerzaam, fijne frequentie ... Precies goed voor een 7- , 9 en 10- jarige!!
Kiki batenburg
26-06-2013
Kidswseek verbreedt je algemene kennis en interesse wat er allemaal in de wereld gebeurt.
Mijn kind vroeg er zelf om.
We hebben kidsweek gegeven aan de dochter van vrienden. Het past bij het kind; ze is nieuwsgierig, belangstellend voor wat in de wereld gebeurt.
Kidsweek is goed voor de algemene ontwikkeling en woordenschat.
Ze kende de Kidsweek van de bibliotheek en van school en wilde graag een abonnement. Bij de bieb ging de Kidsweeek eruit!! Na 2 weken was de 1e kidsweek nog niet ontvangen: ik heb toen een e-mail gestuurd en dit is verder wel goed opgepakt, maar het duurde toen nog ruim een week voordat we het 1e exemplaar bezorgd kregen.
Mijn kleindochter, waar dit tijdschrift voor is, volgt Engels onderwijs, maar heeft wel Ned. les. Haar onderwijzeres raadde Kidsweek aan.
Mijn dochter leest graag en is geinteresseerd in het nieuws.
leuk om allerlei artikelen te lezen. de moppen zijn goed.
Ik geef training aan kinderen met leerproblemen. Kidsweek ziet er aantrekkelijk en uitnodigend uit. Ik henb een paar proefabonnementen kado gedaan kids uit de praktijk.
kids week is heel veel leuk
Kidsweek is een leuk leerzaam blad voor kinderen.
Kidsweek leek me een goed en informatief tijdschrift voor mijn kleinkind. Na een paar keer per brief zelfs met betaalbewijs van kidsweek erbij, pas na anderhalve maand bezorgd, geen antwoord geen excuses, nadat mijn zoon nog eens heeft gebeld , de belofte van kidsweek om het aantal niet bezorgde afleveringen, verder in het jaar/volgende jaar door te laten lopen. Ik ben benieuwd...
Omdat het leuk voor kinderen is en je leert er ook nog heel veel van
zag Kidsweek in een blad, wilde mijn kind stimuleren om meer verschillende dingen om te lezen.
Mijn zoon een abonnement gegeven. Hij mocht een kadootje uitkiezen en Kidsweek leek hem leuk, want dat kende hij van school
Mijn zoon vindt Kidsweek een leuk blad. En ik vind het belangrijk dat hij leest. Ik zie het ook als een soort begin van de krant lezen en hoop dat hij straks zo over gaat op het "grote mensen nieuws".
Wij hebben een abonnement op Kidsweek om m'n meissie op een voor haar goed te begrijpen manier te laten zien wat er allemaal gebeurt in de wereld; minder leuke en de leuke gebeurtenissen.
Kidsweek is informatief maar op het niveau van kinderen. Ze leren hierdoor vroeg zich te interesseren voor het nieuws dat er speelt.
monique schulz
30-01-2012
Ik heb een proefabonnement op Kidsweek afgesloten omdat ik van andere ouders in mijn directe omgeving zeer positieve reacties heb gekregen.Vooral dat het aansluit op de nieuwe taalmethode die bij ons op school van kracht is.Ik heb 3 schoolgaande kinderen en dacht, ik zal kijken tot aan de zomervakantie wat zij hiervan vinden en of het een positieve uitwerking heeft op de schoolprestaties.
Antony Hoijtink (8 jaar)
10-10-2011
omdat er lekker veel nieuws in staat want dat vind ik intersant. en leuk
Al geruime tijd horen we 'weetjes' van onze zoon aan tafel. En elke keer blijkt dat uit een artikel in de Kidsweek te komen. Voldoende reden om een abonnement te nemen zodat hij (wanneer en waar het uitkomt) lekker kan lezen, en dan ook nog nieuws dat voor kinderen leuk en interessant is én op hun leeftijdsniveau wordt gebracht!
Leuk voor mijn dochter omdat ze het gebruiken op school. En omdat zij het nieuws erg leuk vind maar ik het gewone nieuws te heftig vind voor de kinderen, zoals het gebracht wordt. Kidsweek is eigenlijk een krant voor kinderen op hun niveau!
Ik heb een abonnement op Kidsweek genomen zodat mijn kinderen van het nieuws in de wereld op de hoogte gebracht worden op een leuke manier.
Anneke van dobbenburgh
11-09-2011
Een abonnement op de Kidsweek is een superleuk en leerzaam cadeau voor de 9e verjaardag van ons buurvriendje Hidde. Van onze eigen kinderen weten we al hoe interessant de Kidsweek is. En… heel eerlijk…zelf vinden we het ook een fijn krantje om te lezen!
Julia Bouwmeester
10-09-2011
Ik vind het leuk om heel slim te worden en lekker te lezen en er staan hele leuke dingen in. Ik ben heel blij dat er een krant voor kinderen is gemaakt.
Mijn dochter staat 's morgens om half 7 langs mijn bed op donderdagochtend om te vragen waarom de kidsweek niet in de bus ligt! (haar abonnement was net afgelopen). Dat is een reden om weer een nieuw abonnement af te sluiten!
Klaas Geertsema
07-09-2011
Top zo'n krant voor de kids. Nog een jaar of 10 en ze bestaan niet meer. Kinderen kunnen er nu nog van genieten op de bank of in bed met een krantje. Kunnen ze altijd zeggen, dat ook zij de krant vroeger hebben gelezen! Biedt meer variatie en goed voor je ontwikkeling.
ik wil een abbonoment op kidsweek omdat ik er is een heb gelezen op school en ik kon niet meer stoppen het is supperleuk dus darom wou ik een abbonoment en mijn moeder vond het goed kan niet wachten tot hij er is!!!!!!!!!!!! groetjes soumia (:
Super! Leuk en Leerzaam! Ik gebruik veel teksten op school om het lezen te stimuleren. Ze kijken steeds weer uit naar Kidsweek.